30 Brilliant Micro SaaS Ideas for Solopreneurs in 2023 (From ChatGPT)
Unearth 30 brilliant micro SaaS ideas for 2023, curated by ChatGPT. Seize these nuggets of inspiration for developers, marketers, and designers, and begin your solopreneurial journey today.
Ever feel like you're stuck hunting for that next big idea?
Worry no more - we've got your back.
Brought to you straight from the virtual mind of OpenAI's ChatGPT, we present 30 brilliant micro SaaS ideas for the solopreneurs of 2023. Some of these insights are so ingenious that we debated whether we should even give them away for free (but of course, we did).
So, get ready for some major inspiration. But don't hang about - dive into these ideas before other savvy founders get the chance.

Micro SaaS Ideas for Developers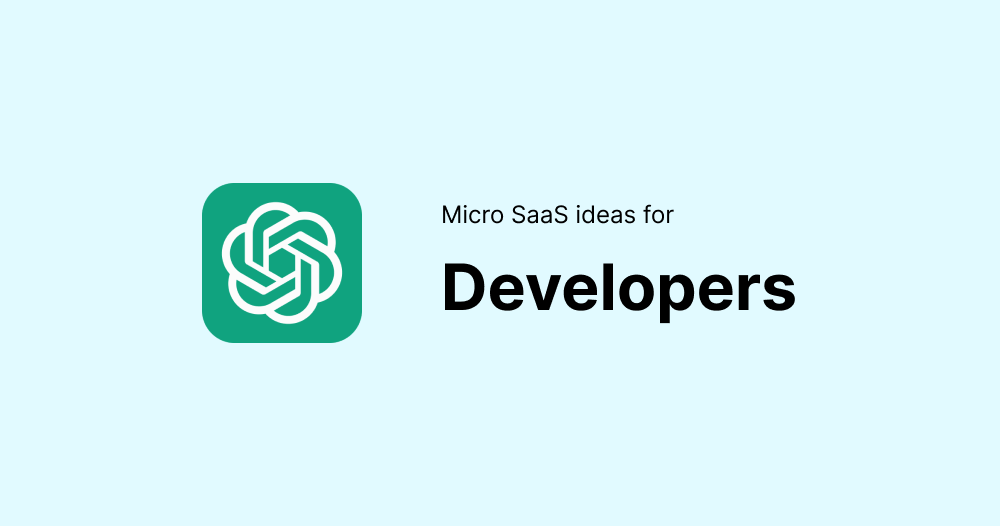 Coding wizards, this one's for you.
Here are 10 micro SaaS ideas to turn your technical expertise into innovative solutions:
Snippet Saver: A platform that allows users to save, tag, and search coding snippets.
Cloud Config Validator: A service that validates cloud configuration scripts for common errors.
Code Formatter: A tool that automatically formats code in different styles.
Git Repo Visualizer: A platform that visualizes the structure of a Git repository.
API Mockup Tool: A service that allows users to quickly create API mockups for testing and development.
Coding Challenge Generator: A platform that generates small coding challenges for practice.
Tech Stack Planner: A tool that helps developers visually plan and document the tech stack for a project.
Browser Extension DevKit: A kit that simplifies the development, testing, and publishing of browser extensions.
Regex Builder: A tool that simplifies the creation and testing of regular expressions.
DB Query Optimizer: A service that optimizes database queries for improved performance, offering real-time tips and suggestions.
Micro SaaS Ideas for Marketers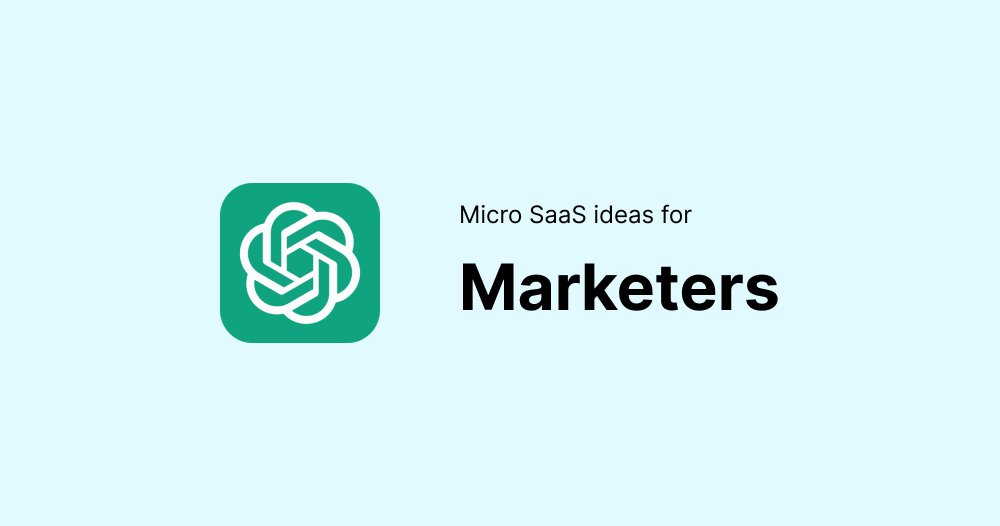 Marketing maestros, your expertise is about to get supercharged.
Feast your eyes on these ten micro SaaS ideas that could revolutionize the way you do marketing:
Niche Trend Spotter: A tool that identifies trending topics in specific niches using social media and search data.
Hashtag Performance Tracker: A platform that tracks the performance of specific hashtags across various social media platforms.
Personalized Marketing Planner: A service that generates a personalized marketing plan based on user inputs such as budget, target audience, and goals.
Micro Influencer Identifier: A tool that identifies potential micro-influencers in a given niche based on social media engagement rates.
Keyword Density Analyzer: A platform to analyze keyword density in online content, aiding in SEO optimization.
Email Campaign Previewer: A tool that allows marketers to preview how email campaigns will appear on various devices and email clients.
Competitor Ad Spy: A service that identifies and tracks competitor advertisements on social media platforms.
Budget Optimizer for PPC Ads: A tool that optimizes budget allocation for Pay-Per-Click ad campaigns based on performance metrics.
Micro Copywriting Assistant: An AI-powered tool that writes and optimizes micro-copy for websites and ads.
Simple CRM for Freelancers: A CRM designed specifically for solo entrepreneurs, simplifying client and lead management.
Micro SaaS Ideas for Designers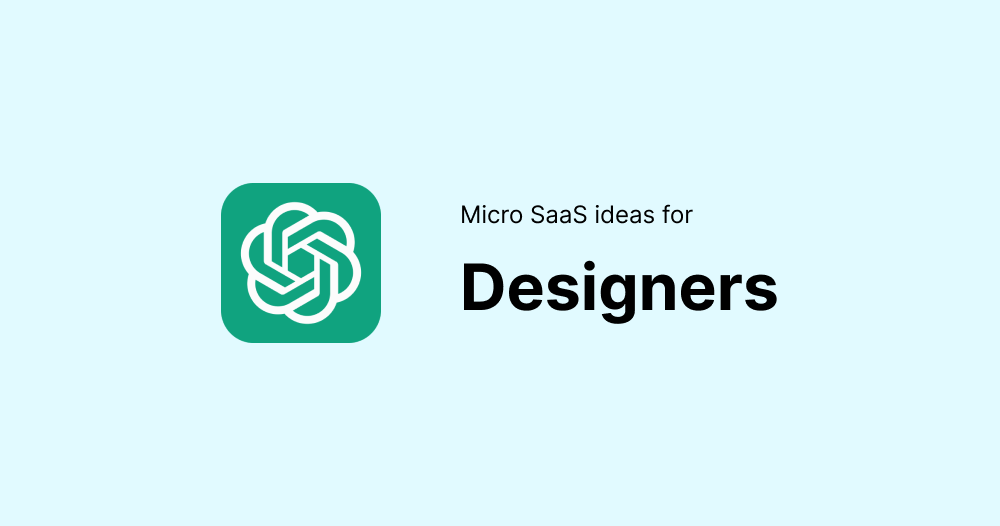 Design gurus, prepare to step up your creative game.
Check out these ten micro SaaS ideas that could take your design prowess to the next level:
Micro Stock Photo Marketplace: A platform that facilitates buying and selling of niche, high-quality stock photos.
Design Feedback Tool: A service that allows designers to gather and organize feedback on their design projects from various stakeholders.
Logo Preview Tool: A tool that enables designers to preview how logos look in various real-world contexts.
Font Pairing Generator: A platform that generates visually appealing and effective font pairs for design projects.
Color Palette Extractor: A tool that extracts a color palette from an uploaded image, making it easy to build a harmonious color scheme.
Interactive Resume Builder for Designers: A platform that allows designers to create interactive and visually appealing resumes that showcase their work and skills.
Social Media Graphic Generator: A tool for generating visually stunning graphics for social media posts based on templates and user-defined style preferences.
Digital Design Asset Marketplace: A platform for designers to buy and sell digital design assets such as icons, vectors, and templates.
Website Mockup Tool: A service that allows designers to quickly create website mockups from provided content, making it easier to share and discuss their concepts.
UX Feedback Collector: A tool for gathering real-time user feedback on website usability, helping designers make informed decisions.
Conclusion
And there you have it, 30 micro SaaS ideas ripe for the picking in 2023. Remember, the beauty of these ideas lies in their potential to be molded and adapted to suit your unique skills and vision.
The next step? Validating these ideas. And that's where EarlyBird can help. As a no-code landing page builder, EarlyBird empowers you to test the waters before investing heavily into development.
As solopreneurs, you are in a unique position to take these ideas and run with them, crafting something truly unique. You hold the keys to a world of innovation, where each idea can open a door to a new, untapped niche.
Remember, in the world of entrepreneurship, time is of the essence. So, don't sit on these ideas too long before others catch on. Here's to your journey towards building the next big Micro SaaS. Good luck!