How to Build a Pre-Launch Email List for Your Product Hunt Launch
Are you launching a new product on Product Hunt? Here are the 7 easy steps to help you build a pre-launch email list.
Are you launching a new product on Product Hunt?
If so, you'll want to ensure you have an email list ready before you launch. Building a pre-launch email list is a great way to make sure you have an engaged audience ready to show your product some love on launch day.
We'll share seven easy steps to help you build a pre-launch email list. So you can get the most out of your Product Hunt launch.
Let's dive in!
7 Easy Steps to Building a Pre-Launch Email List for Your Product Hunt Launch
Building a pre-launch email list for your product launch is essential to ensuring success.
It's a great way to connect with potential customers and engage them early. Plus, it can help you build excitement around your product before it's publicly available.
Here are seven tips for building a pre-launch email list:
1) Why You Need an Email List
If you launch a product on Product Hunt, having a pre-launch email list can be invaluable. An email list provides an engaged audience ready to take action when your product launches.
Also, it allows you to start building relationships with potential customers and get feedback on your product. You can get the word out quickly and easily with an email list. It makes sure your launch gets the attention it deserves.
With the right tools and strategies, you can use your email list to create a successful launch on Product Hunt.
2) Target Your List Carefully
It's essential to be thoughtful when building your pre-launch email list. The goal is to build a list of people interested in your product or service and willing to help you spread the word.
List your ideal target audience, including demographic data, interests, and purchase history. Then, identify ways to reach them, such as through social media campaigns or influencer outreach.
Focus on channels that have previously shown success for you and your business. So you know your list will be made up of potential customers. As you build your list, it's important to be mindful of data privacy regulations like GDPR. Make sure any contact information is collected legally and securely.
With a carefully crafted pre-launch email list in place, you're ready to move on to setting up your landing page.
3) Setting Up Your Landing Page
Creating a landing page is essential when building an email list for a Product Hunt launch. It will be the page visitors will arrive on when they click your link or advertisement. You want to ensure the page is well-designed, engaging, and informative.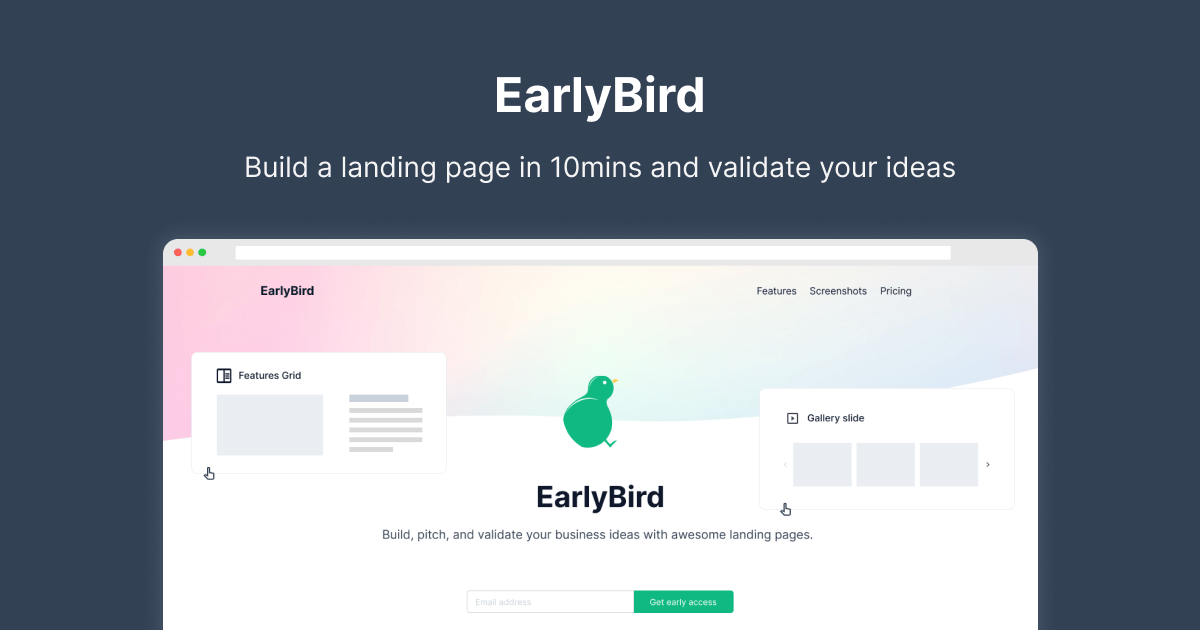 Start by adding a compelling headline that will draw visitors in.
Then, create compelling copy explaining your product and why it is worth signing up for.
Finally, include an opt-in form where people can submit their email addresses.
Make sure to add visuals, like images or videos, to engage visitors further and encourage them to sign up.
You can quickly build a high-quality email list before your Product Hunt launch with the right combination of design, content, and visuals.
4) Keep Your Email Content Engaging and Informative
When creating pre-launch emails, the content is as important as the list.
It would help if you ensured your emails are informative and engaging so that people don't feel like they're getting spammed. Also, it's important to ensure that your emails offer value that makes people want to stay subscribed and use your product.
Here are a few tips on how to create great pre-launch email content:
1. Use A Conversational Tone. Try to avoid using technical jargon and keep your emails simple and relatable.
2. Highlight Features and Benefits. Explain why your product is valuable and how it can help the reader.
3. Offer Special Deals or Incentives. It could be a discount code, exclusive access to a feature, or even early access to the product before the public launch.
4. Include Images or Videos. Visuals can make your emails more engaging and break up the text-heavy sections.
5. Invite User Feedback. Ask for feedback from readers on what they would like to see in the product or what features they would find most useful.
5) Make Sure Your Email Content Is Delivered Correctly
It's important to ensure that your email content is delivered correctly so you can take advantage of potential leads. Make sure your emails are properly formatted and that the right CTAs are included, as well as any relevant links.
Test your emails with multiple clients to ensure they look the same across different platforms. Finally, use email analytics to track your open rates, click-through rates, and other metrics to measure the success of your emails.
6) Promoting Your Landing Page
Once you have created your landing page, it's time to start getting the word out.
You'll want to create a campaign targeting your ideal customer to do this. Utilize organic and paid methods, such as content marketing, social media posts, and email outreach.
Track your results to see what's working best and focus on those methods.
7) Launching on Product Hunt
Product Hunt is a great way to get your product seen by potential customers.
Before launching, create a teaser post and use the tools to promote it. When ready, you can launch your product on the platform and start interacting with users. It is a great way to gain visibility and drive traffic to your website or store.
You can launch a successful Product Hunt with the right strategy that generates leads and drives sales.
Conclusion
Having an email list before launching on Product Hunt is a great way to give your launch a head start. Building a quality pre-launch email list takes careful planning, targeted outreach, and delivering engaging content.
With EarlyBird landing page builder, you can quickly and easily create a personalized online presence for your business, organization, or individual interests. So why wait? Start using EarlyBird today to increase your productivity and get the most out of life.