Product Changelog: Week 3, Dec, 2022
Here are six new EarlyBird features we shipped in the third week of December 2022.
👋 Hi, Early Birds!
I hope you all had a great week. I understand most of you are on holiday right now. And fellow markers, we'd love to hear about what's going on in your lives and get to know our readers a little better. As for EarlyBird, it was a busy week with work, trying to squeeze in some cool new features. We listened to the feedback of our early access users and made significant improvements to the MVP.
Here are six new features of EarlyBird we shipped in the last week.
Email Capture Block — Capture customer emails on your landing page
Team Collaboration — Collaborate like never before.
Automated OG Meta Data — Customize and fully control your social media presence.
Private Mode — Provide landing page access to certain people.
Lead Capture Notification — Get notified when a conversion action is triggered.
Integrate with apps — Bring the lead capture data to your favorite apps.
Email Capture Block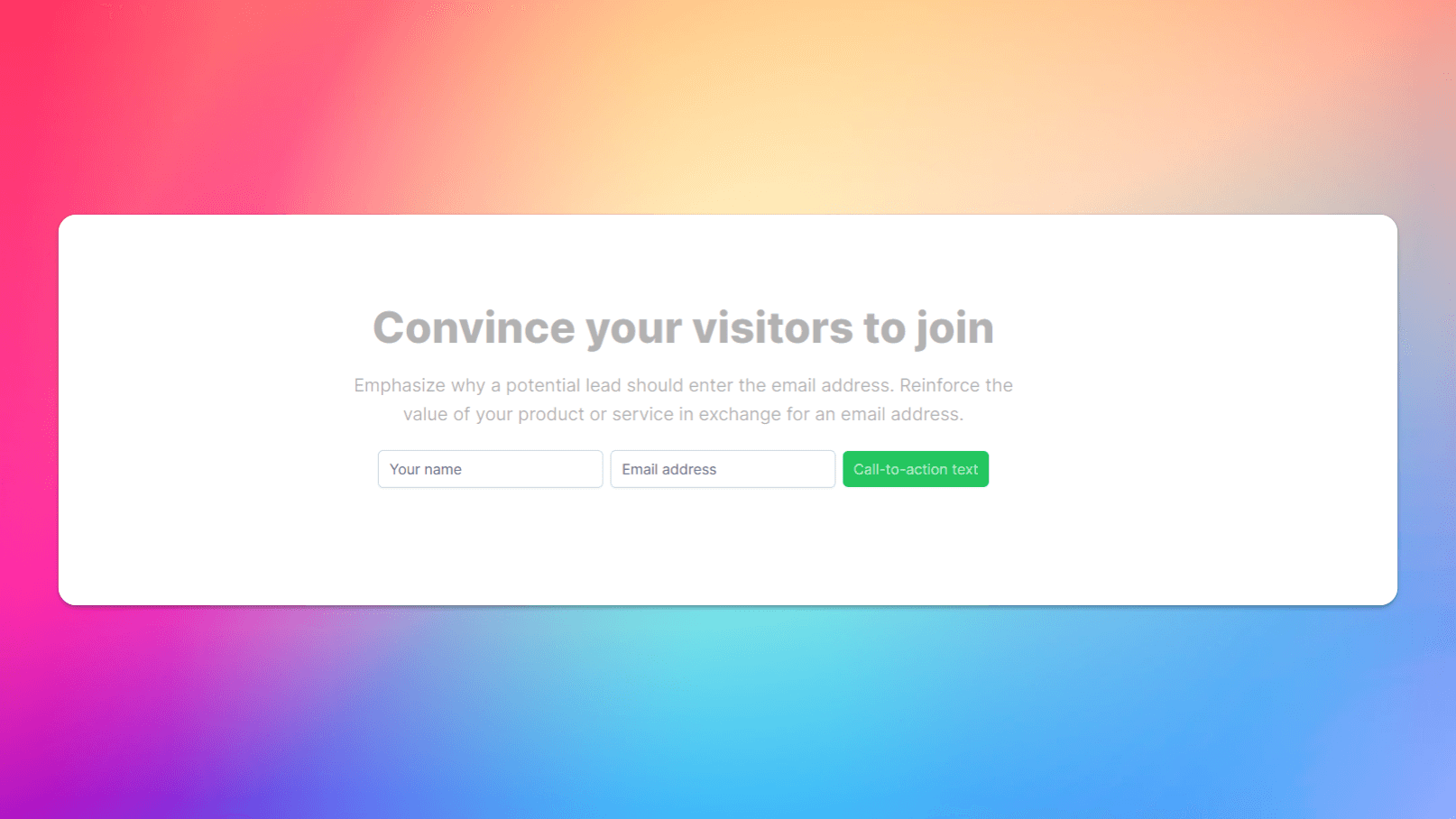 Email capture is essential for any landing page because it allows you to build a list of potential customers or clients who have expressed an interest in your business or product. And that's why we've introduced the Email Capture Block to EarlyBird. It's the perfect way to capture emails on your landing page and grow your email list.
This customizable block allows you to add a simple yet effective email capture form to your page and collect the data you need to nurture leads, send out newsletters, and provide access to certain links, files, and more.
Start growing your list today and see how powerful email marketing can be. Test it now.
Team Collaboration
Not a solopreneur? We've still got you covered.
Now you and your team can easily collaborate to create a stunning and impactful landing page for your business ideas. You can quickly customize and add content, adjust the look and feel of your page as a team, and share with others for feedback. This feature brings the power of collaboration to your EarlyBird projects, enabling you to create a cohesive and effective landing page in no time.
Automated Open Graph Meta Data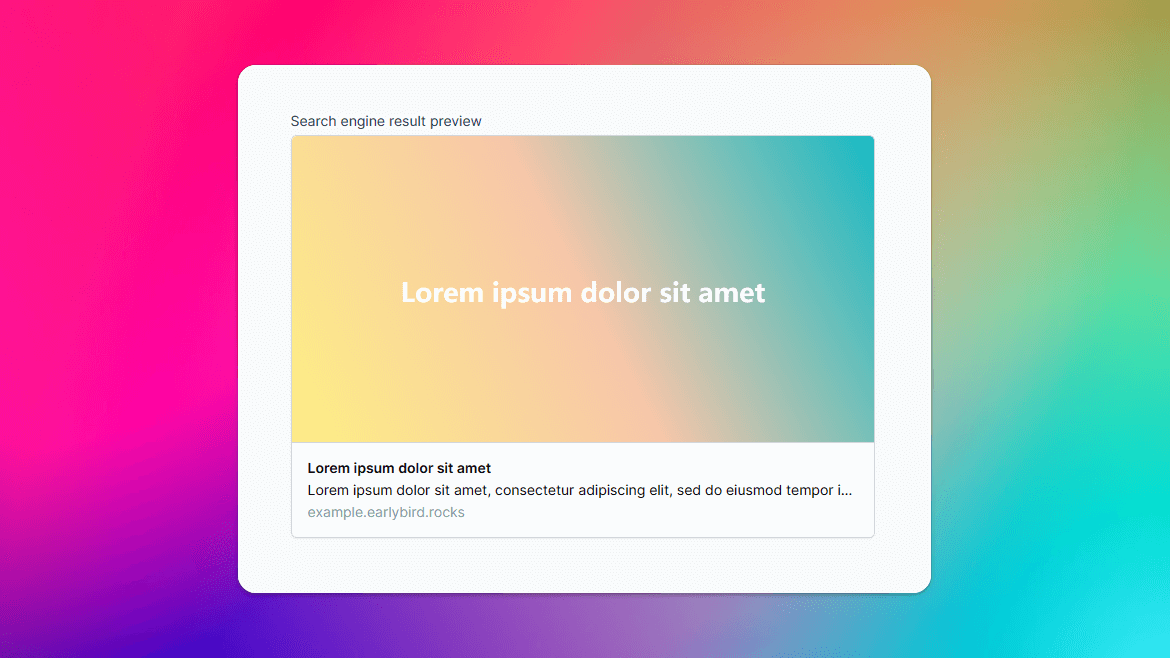 Our automated system will take the content of your page and generate the Open Graph meta data that is optimized for sharing on social media platforms.
And if you want to set custom OG metadata, you may do so on the product settings page. You can edit the Open Graph details for your landing pages, including the title, description, and thumbnail image. This means that you can control how the web pages are previewed when you are shared on social media platforms and can optimize their pages for better engagement and visibility.
Private Mode
Let's say you want to A/B test your landing page with a select audience. Now it's possible with EarlyBird! This feature allows you to create a secure landing page that is only accessible to visitors with the correct code. In the product settings page, you can keep your landing page private and safe, ensuring that only those with the valid password can access your page.
Enjoy the added security and peace of mind of knowing that only those with the password can access your page.
Lead Capture Notification
We've shipped a handy feature that notifies you (by email) when your landing page is converting. Now you can receive email notifications when a conversion action is triggered. Whether it's a lead capture or another activity, our users will always be kept in the loop and up-to-date. This can help you, the user stay informed about the performance of your landing page and make any necessary adjustments to improve the user experience or increase conversions.
Integrate With Apps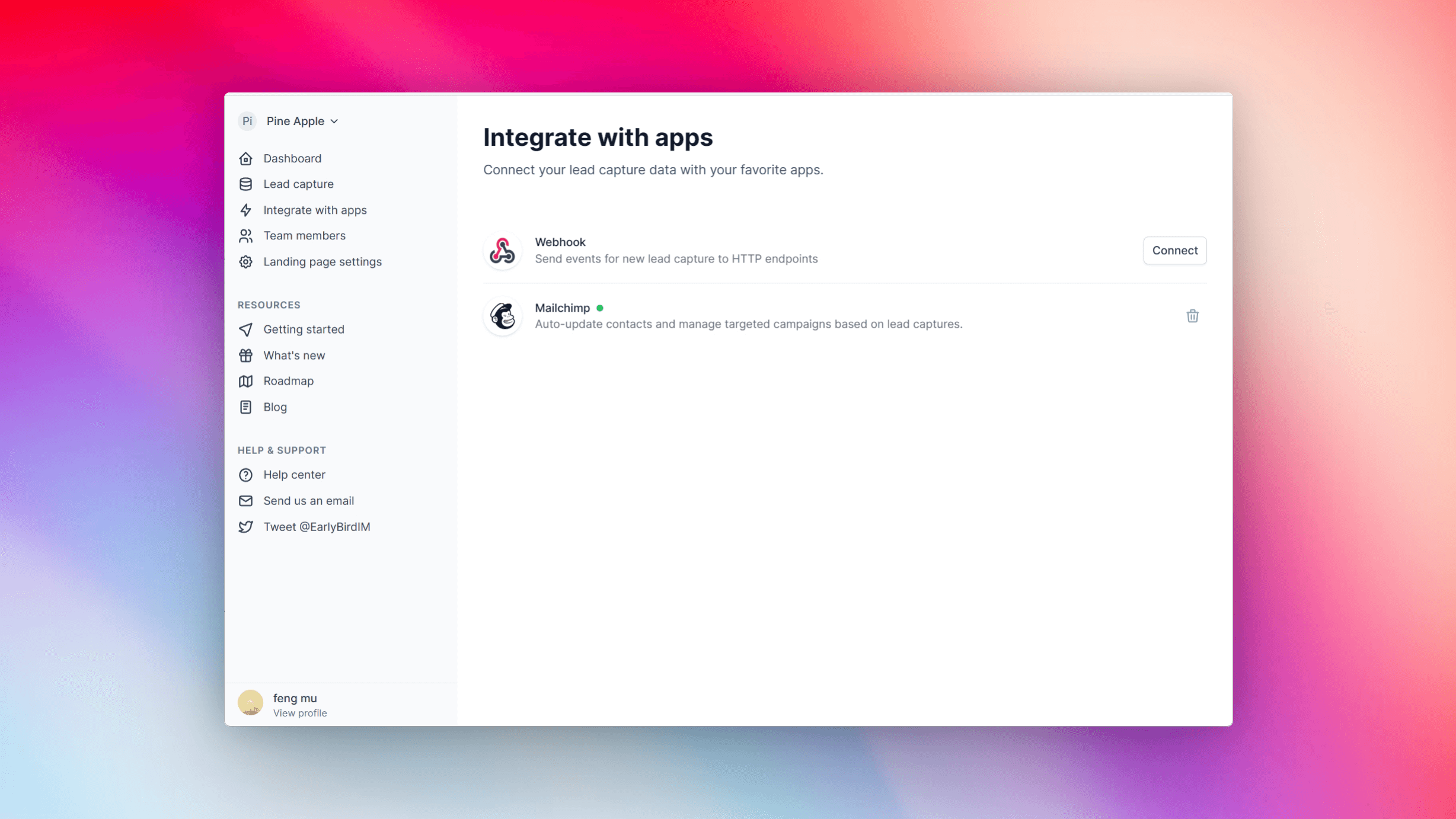 Now you can bring the conversion (lead capture) data to any app. The app integration feature allows users to connect their lead capture data with other applications, such as Slack, Notion, etc. When a new lead is captured on the landing page, an event can be triggered to send the lead data to an HTTP endpoint or webhook, which can then be used to update the other application with the new lead information. We provide native integration for Mailchimp at the time of writing this changelog.
That's all for now
Keep a close eye on @earlybirdim for an official release note. And we're shipping on Product Hunt on December 25, Christmas day. Happy holidays and remember to tune in on 25th!