10 Brilliant Side Hustle Ideas That Anyone Can Try and Make Money in 2023
Discover 10 brilliant, no-coding required side hustle ideas to kickstart your profitable entrepreneurial journey in 2023. Turn your passion into profit with easy-to-start and scalable side projects.
Yearning to delve into entrepreneurship but feel restricted by a lack of coding skills? Fear not. We've curated 10 exciting side hustle ideas that need zero coding and could potentially boost your income in 2023.
Often, the allure of establishing a SaaS business and reaping recurring revenues is enticing, but the road to success isn't a cakewalk. It takes understanding your audience and their pain points, which isn't easily achievable at the outset.
Enter side hustles. These ventures are a more approachable stepping stone to entrepreneurship. They are low risk yet teach invaluable business lessons.
In this article, we'll explore 10 side hustle ideas you can undertake with accessible no-code tools. Most of these ideas can be brought to life for free or at a minimal expense, under $100 a month. So get ready to kick-start your entrepreneurial journey in a unique and fulfilling way.
Newsletter
Starting a niche newsletter can be an exceptionally lucrative side hustle, and it's not too late to jump on this bandwagon.
The key lies in discovering your unique niche. Maybe it's a newsletter sharing last-minute Airbnb deals or perhaps you're passionate about offering tips to budding creator-entrepreneurs. The more specialized your content, the more potential it has to capture a loyal audience.
Once you've accumulated around 100 subscribers, you can consider monetizing your newsletter. This can be achieved by reaching out to potential sponsors for your issues, working on affiliate marketing or incorporating direct payments.
Substack is a popular platform that allows you to operate a newsletter at no cost. For instance, check out my newsletter Strollers to Startups that I run via Substack. Explore your options and embark on your newsletter journey today.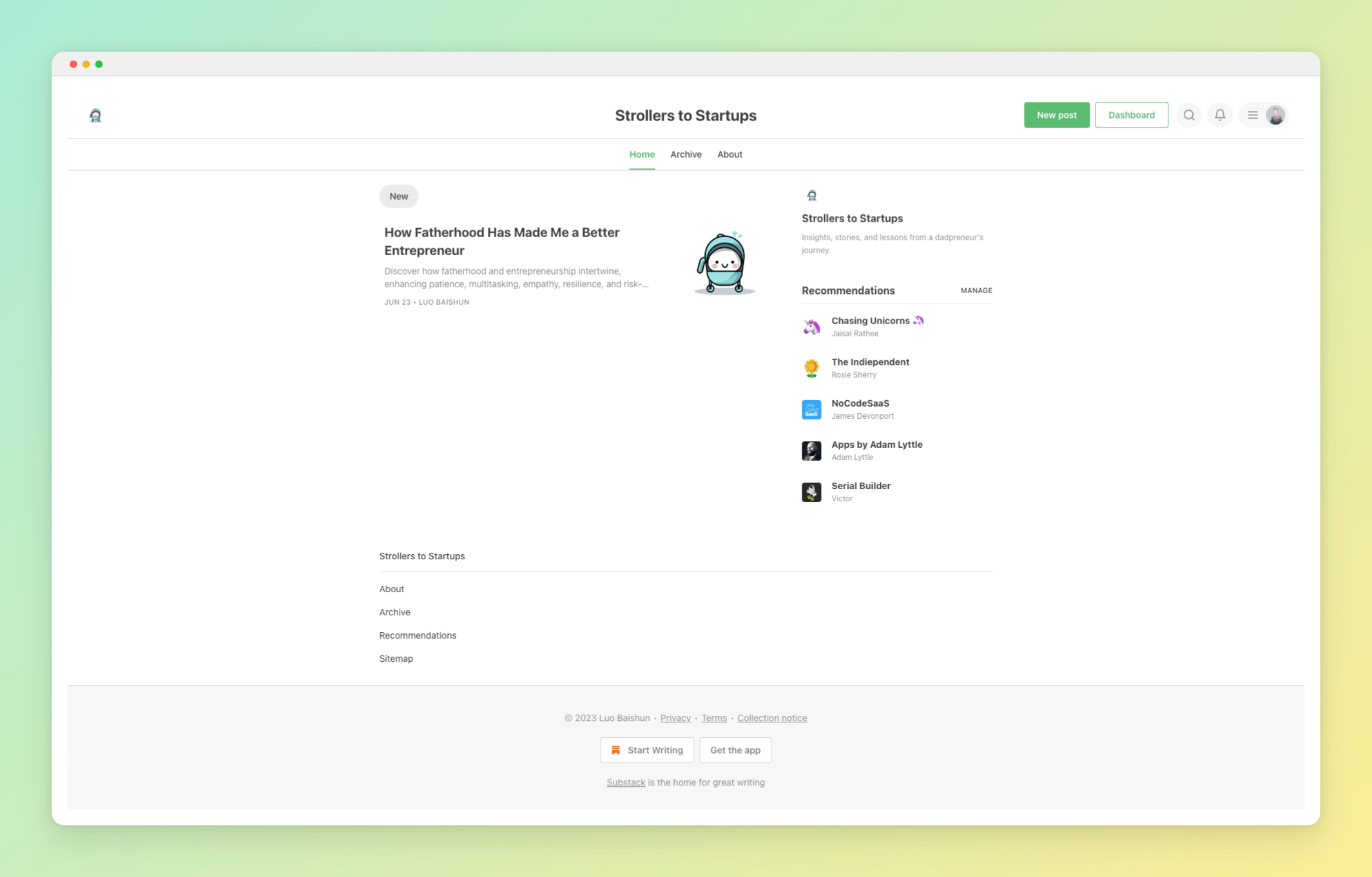 Blog
In the age of information, creating a blog with high-quality, niche content can be your ticket to a profitable side hustle. Particularly, if you keep SEO in mind.
Take a cue from us at EarlyBird. We produce comprehensive guides that enable Indie Entrepreneurs to launch and validate their businesses. The idea is to deliver value, foster trust, and subsequently monetize that audience.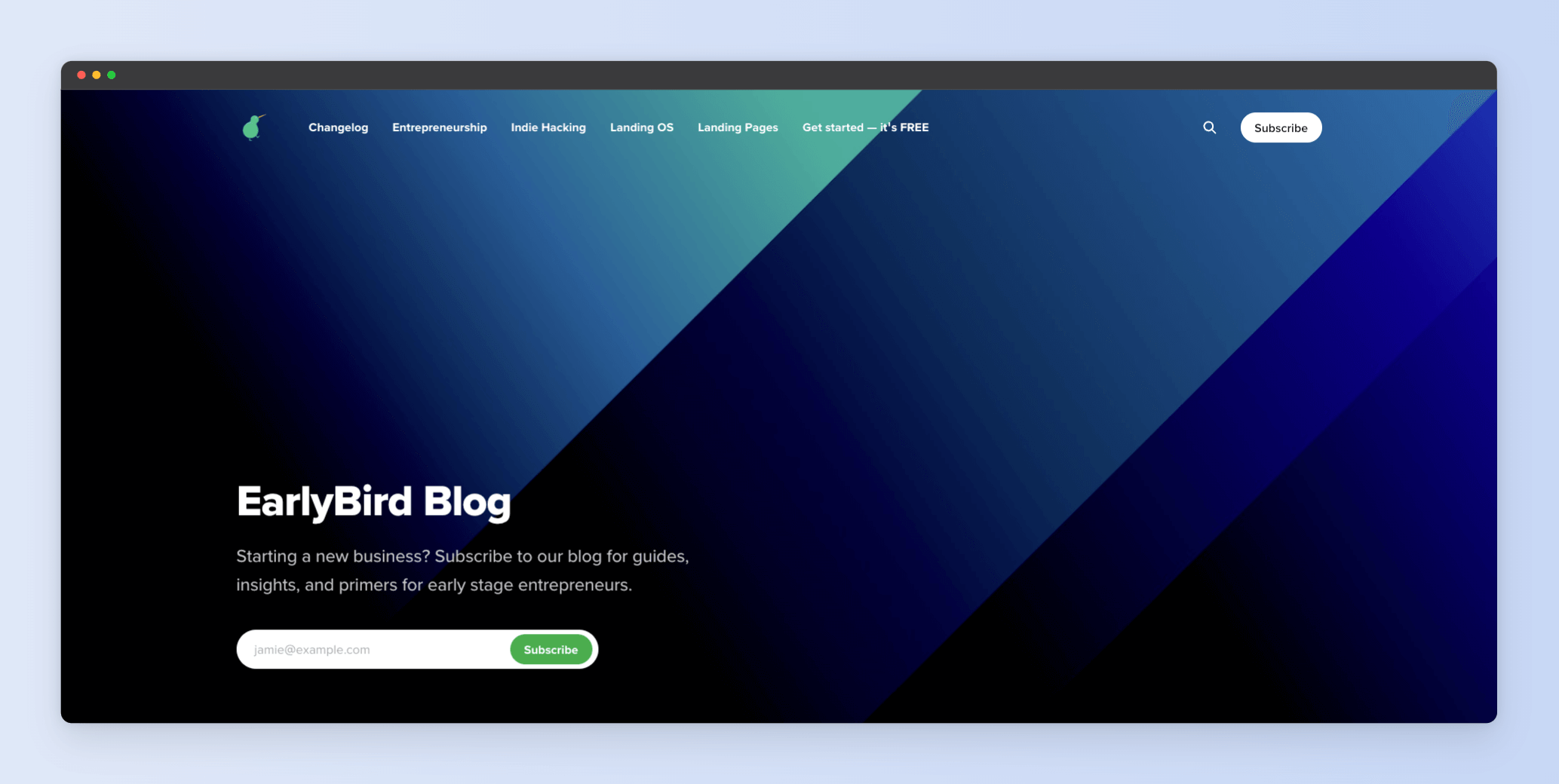 Your blog can become a solid income stream through affiliate marketing or by displaying ads. Essentially, if you generate significant traffic, you will find plenty of opportunities to monetize it.
Platforms like Ghost and Medium can host your blog. We utilize Ghost for its superior SEO capabilities and control over our content.
Remember, blogging is a marathon, not a sprint. Patience and persistence will eventually bring about worthwhile rewards.
Podcast
In a world where smartphones and smart speakers are ubiquitous, podcasts continue to gain traction. Starting your own podcast channel isn't just a trendy move, it's a potentially lucrative side hustle for 2023.
Podcasts and newsletters share a strategy for success: niche down and focus on delivering high-quality content. It might take some time to build an audience, but once you do, the growth can be exponential.
Take inspiration from fresh and innovative podcasts like Indie Bites and Zero to (point) One. Their unique content and engaged listener base demonstrate the potential that awaits you in the podcasting space.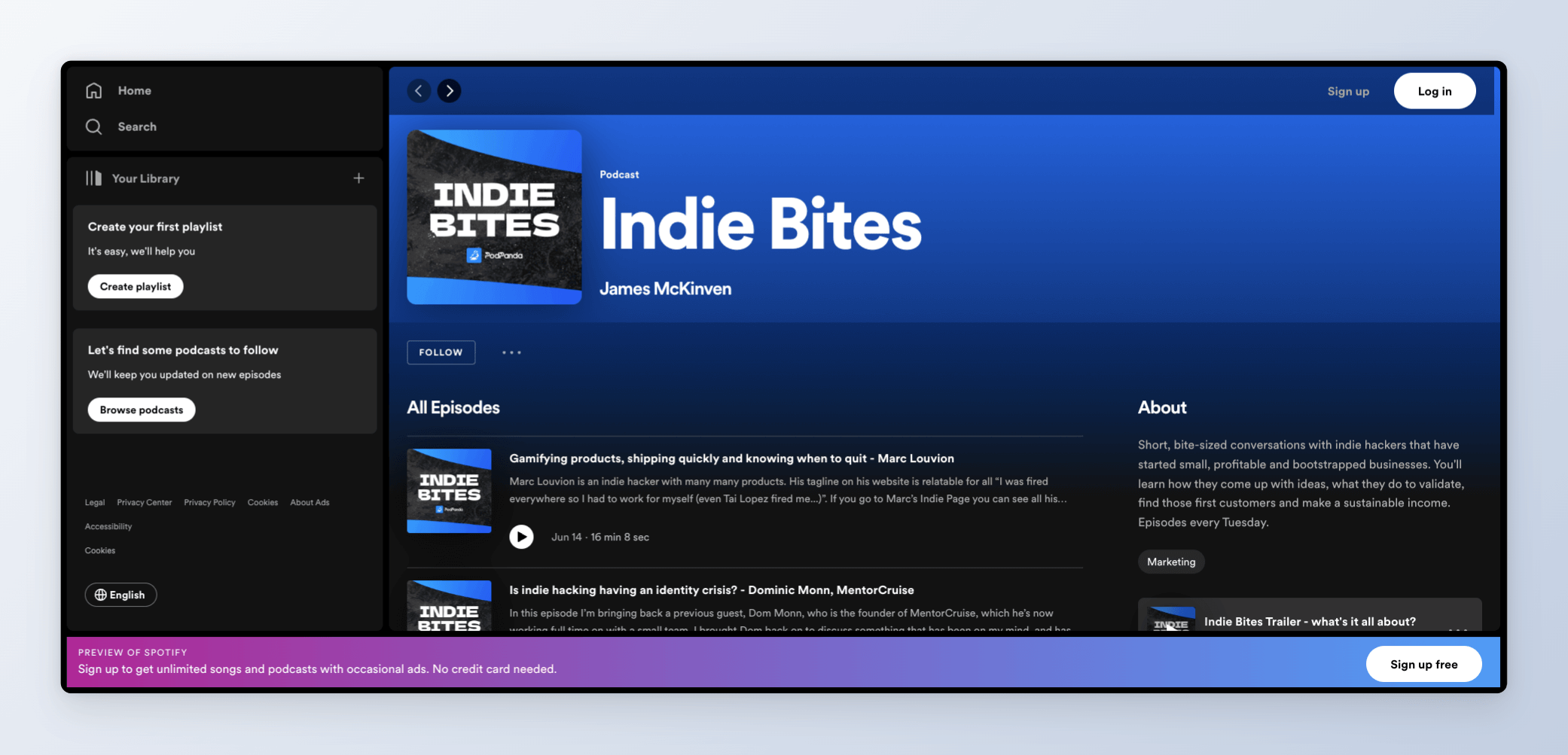 All you need to get started is a high-quality microphone, a compelling topic, and a hosting platform like Spotify for Podcasters or Podbean. From there, you can look to sponsorships, listener donations, and ad revenue as your main sources of income. The possibilities are truly endless once you've created a podcast that resonates with listeners.
Pre-recorded Course
Transform your special skill or in-depth knowledge in a particular field into a viable side hustle by creating a pre-recorded course. With today's digital platforms, it's never been easier to record a short video course and sell it to a global audience.
Your unique expertise could be the answer to someone's quest for learning. Platforms like Udemy, Coursera, Teachable, Kajabi, and Gumroad are perfect for sharing what you know and earning money from each student who enrolls.
Consider Arvid Kahl and Justin Welsh as inspirations. They've taken their niche knowledge and turned it into profitable online courses. You, too, can create a course that resonates with a specific audience, fostering trust and encouraging impulsive online purchases.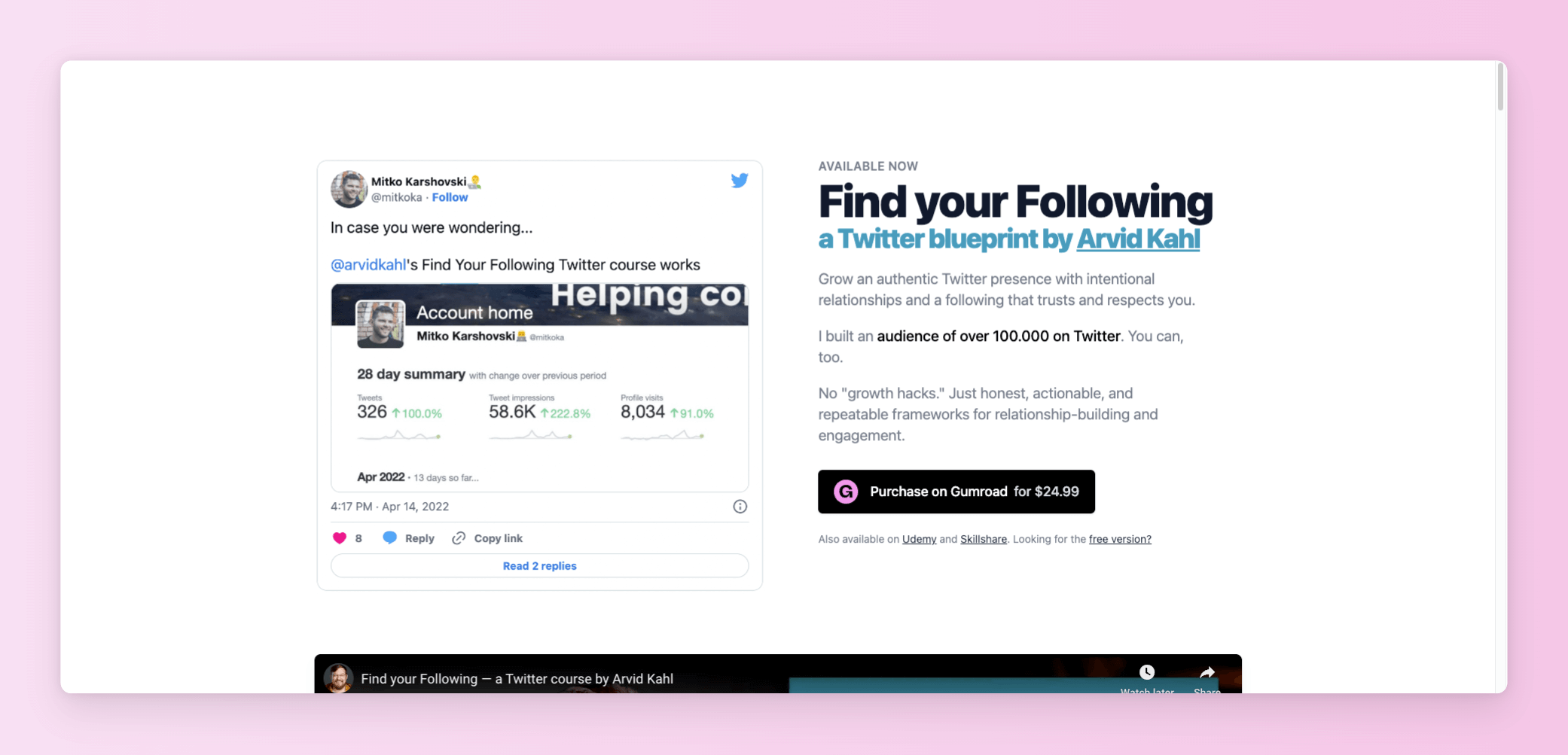 Curated List
In this era of information overload, curated lists can be an oasis of value. By doing the heavy lifting of sifting through an ocean of content and providing high-quality, topic-specific resources, you can create a profitable side hustle.
Check out our landing page collections, where we've curated over 500 landing pages with detailed categories for makers. We understood that people don't want to spend precious time hunting for landing pages for inspiration, so we did the heavy lifting for them.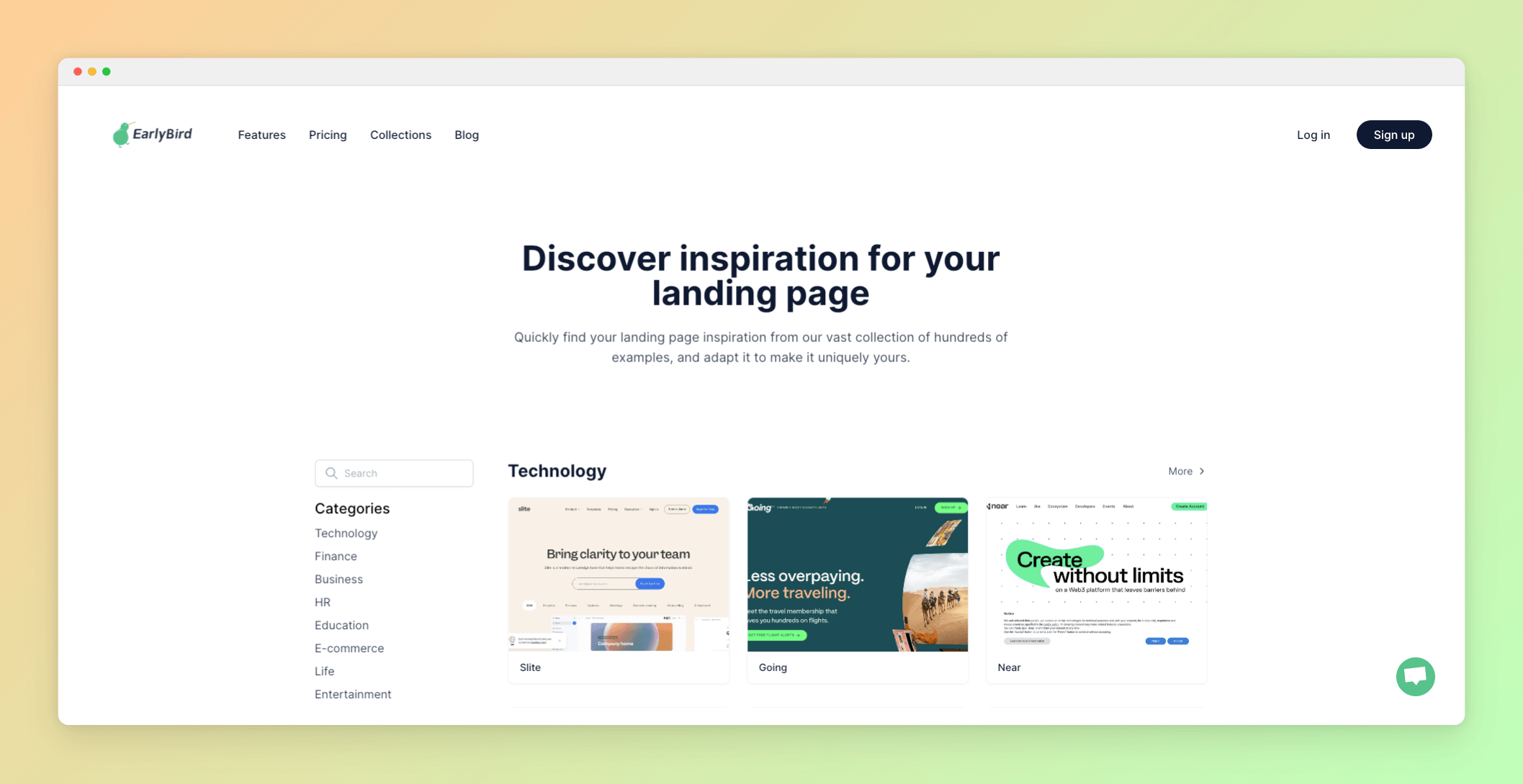 Creating your own curated list involves performing in-depth research and structuring your findings in an accessible and appealing way. You could curate anything: tools, resources, tips, best practices, or templates. Platforms like Airtable or Notion make it simple to compile these lists, and they're free for starters.
Once your curated list is ready, Gumroad is an excellent platform to sell it. Many creators, including us, are using it to reach and engage with their audience.
Notion template
Notion, with its versatile functionality, has become the ultimate productivity tool for many. However, the vast majority of users are only scratching the surface with basic templates. That's where your opportunity lies.
If you're someone who loves creating efficient systems, you can design and sell unique Notion templates for niche use-cases. Imagine creating a custom CRM for ghostwriters, or a task manager tailored for Indie Entrepreneurs - the possibilities are endless.
Inspirations are all around. Take Easlo, for instance, who is well-known for pioneering the selling of Notion templates. Their marketing approach offers invaluable insights.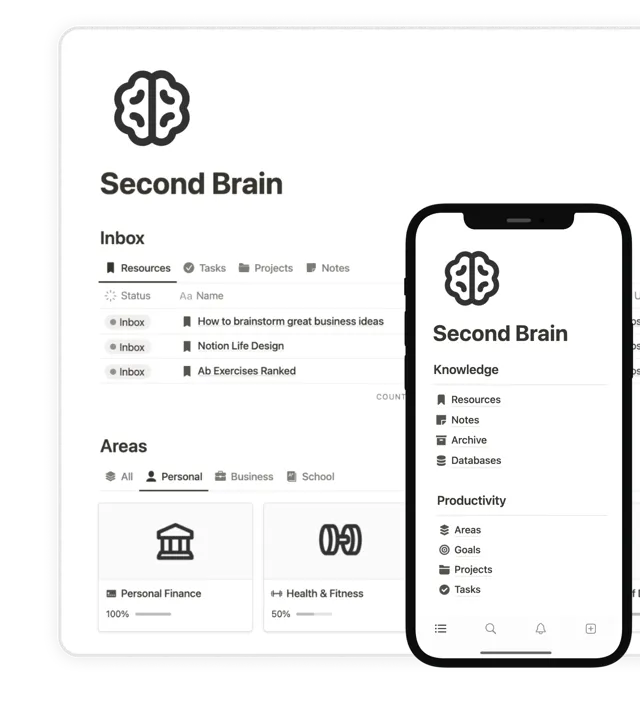 To start selling, platforms like Gumroad or Etsy are perfect. Remember, before launching your template, engage with Notion communities and share your progress. These passionate groups could be home to your first customers.
Cheatsheets
In an age where information overload is a common concern, simplicity and directness are key. That's why cheatsheets, with their easy-to-use and practical approach, have gained tremendous popularity. They provide the essential information on a topic, allowing readers to quickly skim through or save for later reference.
These could be summaries of programming languages, quick reference grammar guides, or DIY instructions - the range of topics is vast. One fantastic example is Clarity Calls. It effectively delivers concise and straightforward content, solving many of the problems typically associated with online courses.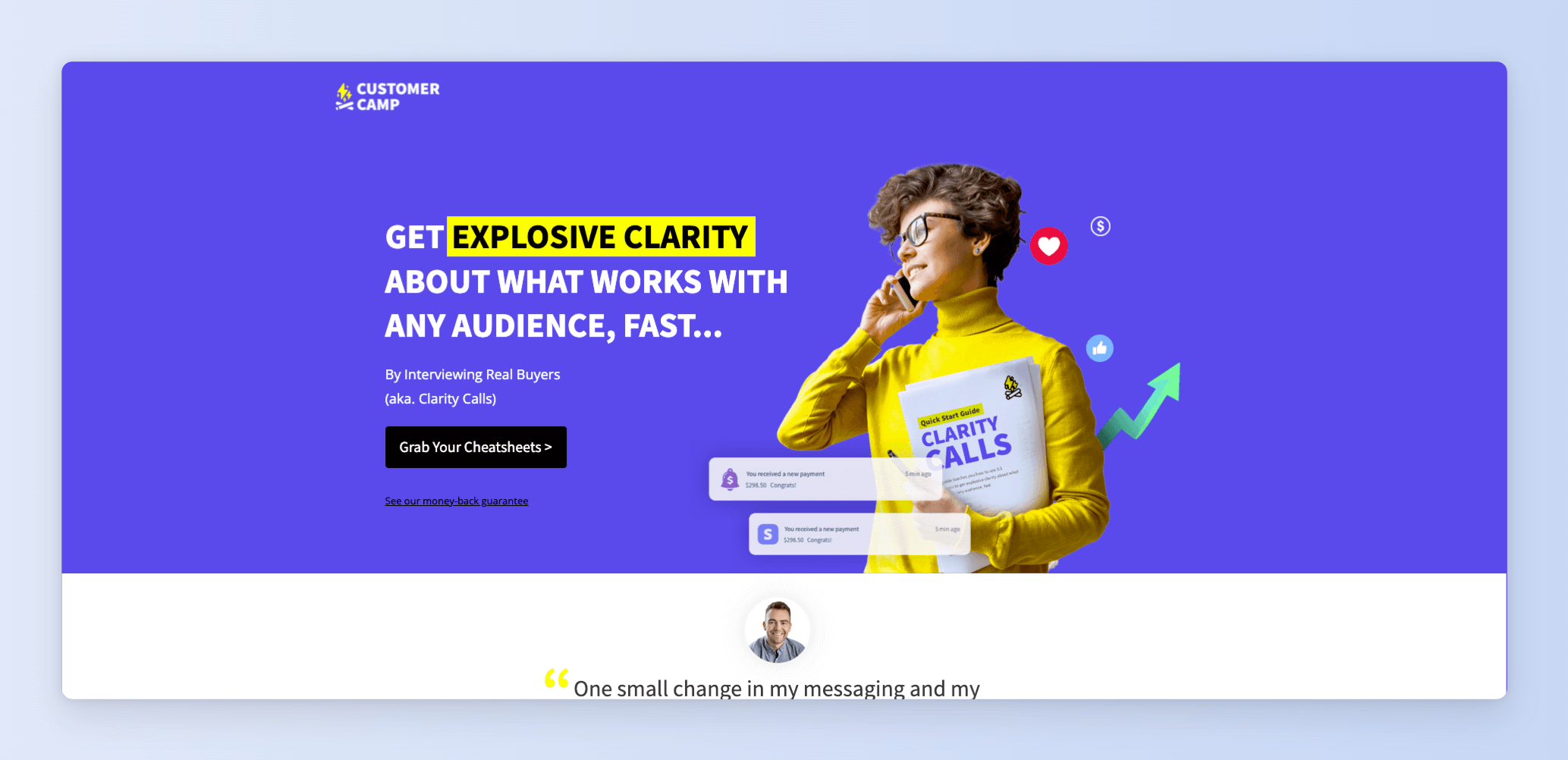 With tools like Canva, you can design appealing and effective cheatsheets. Platforms like Gumroad or your own website can serve as the marketplace to reach potential customers.
30-day challenge
Who hasn't started a new routine or habit with the best of intentions, only to find it abandoned after a few days due to lack of accountability or simple distractions? That's where 30-day challenges come into play. These challenges provide the perfect framework for creating sustained engagement, building a community, and fostering new habits.
The beauty of these challenges lies in their versatility - fitness, writing, reading, or virtually any activity can form the core of a 30-day challenge. Consider the examples of Ship 30 for 30 and Build Sell 30. Each offers a structured approach to encourage and maintain new habits.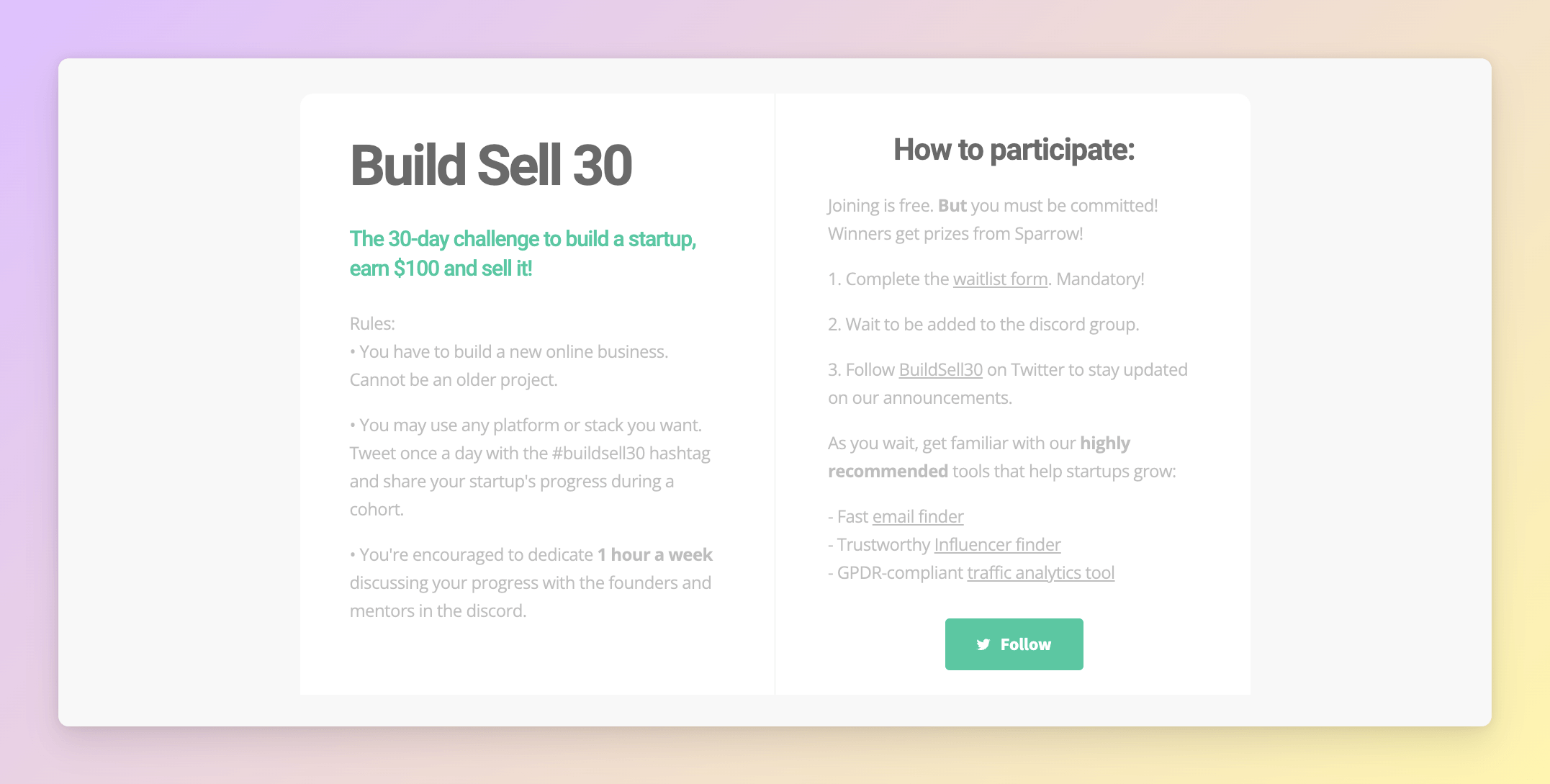 You can monetize these challenges directly by selling them to people who need the structure and accountability or use a free version as a powerful lead magnet. Tools like MailerLite, which offers a substantial free plan, can be used to send out challenge emails and maintain engagement.
Closed community
In a world increasingly dominated by virtual interactions, people yearn for connection, community, and a sense of belonging. This is precisely the need that closed communities fulfill. These aren't just social media groups or forums; they are digital gathering spaces where people with similar interests can exchange ideas, support each other, and foster meaningful relationships.
Consider establishing your own community, perhaps a free Slack or Discord channel. Your role would be to moderate discussions, foster engagement, and maintain a healthy and inclusive environment. A great example is communities like Indie Worldwide and Wannabee Entrepreneur, where indie entrepreneurs come together to share, learn, and grow.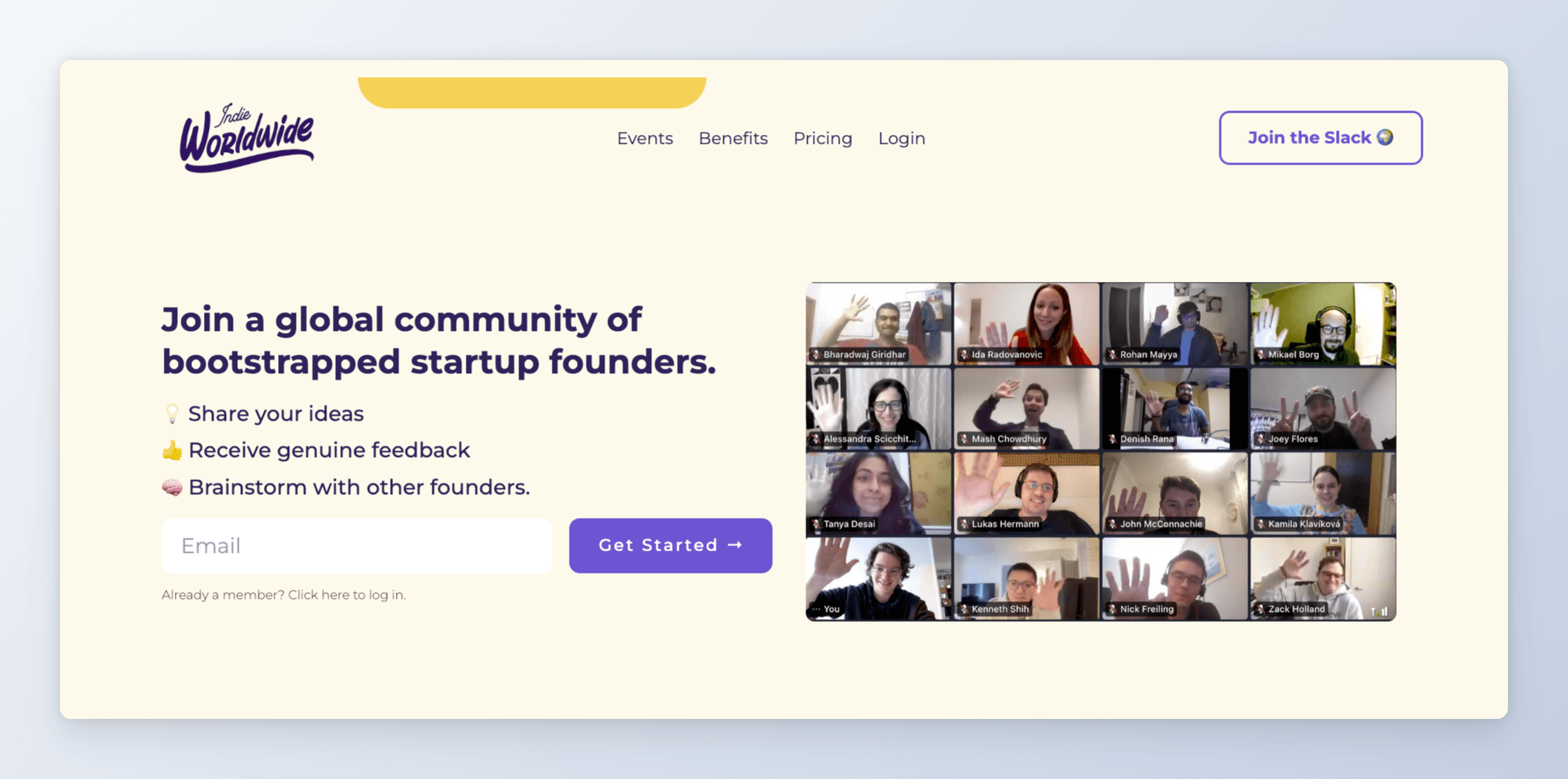 As the facilitator of such a space, you can generate revenue through membership fees, sponsorships, or offering premium content or experiences. This not only makes for an enriching side hustle but also helps to create meaningful relationships and contribute positively to people's lives.
1-Person Agency
Are you skilled in a particular domain, such as writing, designing, or social media marketing? If so, turning your talent into a one-person agency might be your golden ticket to a successful side hustle. The thought might seem intimidating initially, but remember that every successful venture begins with a single step.
One-person agencies have been on the rise as more businesses look for specialized, personalized services. Websites like Upwork or Fiverr can help you find clients and set your rates. They also handle most of the technical aspects, freeing you to focus on your craft.
Choosing the right niche is critical. For instance, v2China provides a China market entry solution for SaaS startups. And all this doesn't require a team of project managers - it's a one-person show. This is a testament that with the right idea and execution, you too can create a profitable agency by yourself.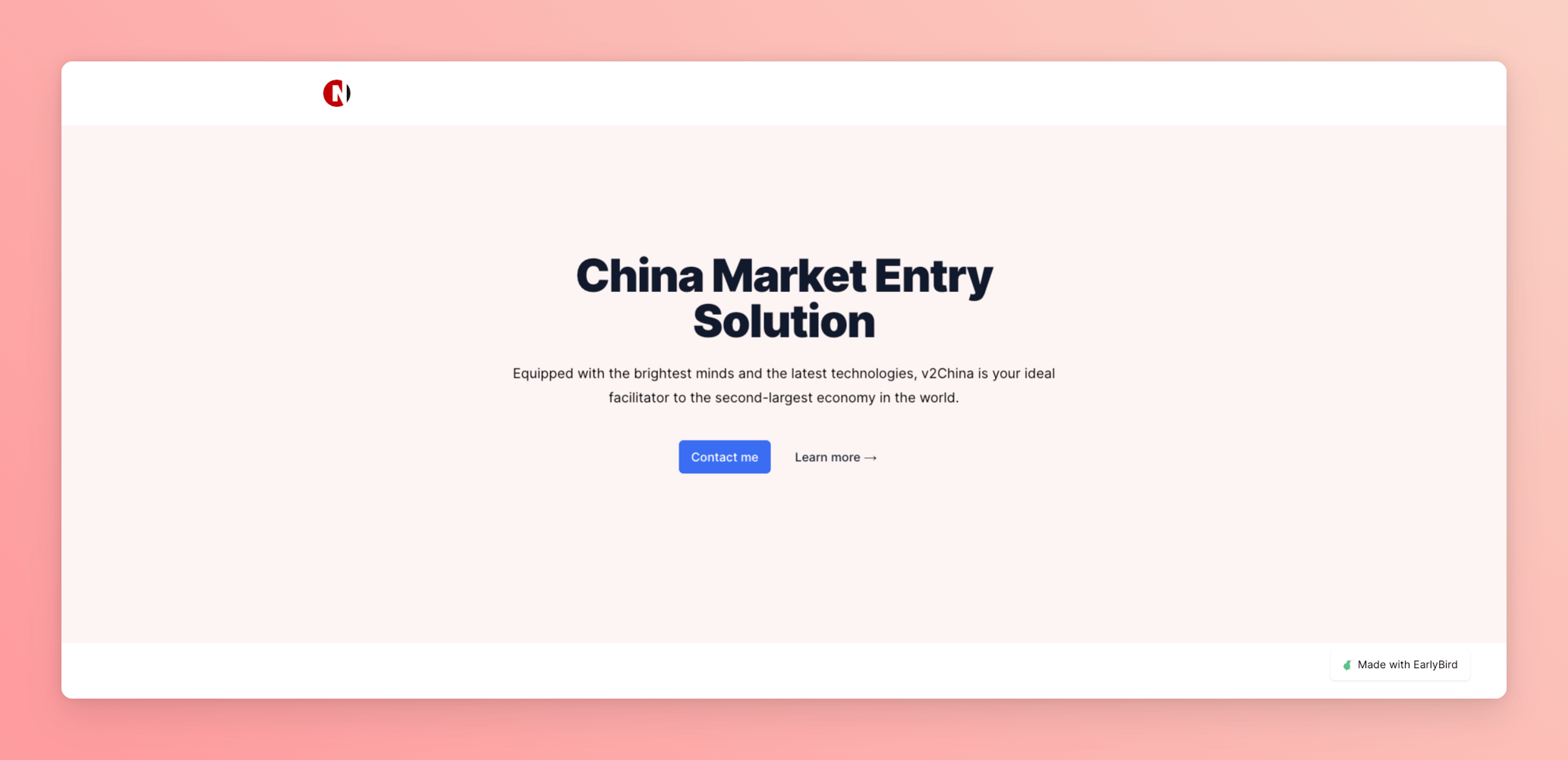 Conclusion
Starting a side hustle can be an exciting journey full of possibilities. Not only does it open up avenues for extra income, but it also paves the way for new skills, encounters with inspiring creators, and invaluable experiences.
However, the road to making it successful isn't always easy. It requires meticulous planning, strategic positioning, and developing a solid marketing funnel. Above all, attracting and retaining users is key.
Remember, your side hustle can be anything you're passionate about or skilled in. It doesn't require coding or a massive budget. All you need is the willingness to take the plunge, a dollop of creativity, and a pinch of persistence. So pick an idea from this list that resonates with you and make the year 2023 the year you kicked off your entrepreneurial journey.
And remember, each step you take, no matter how small, is a step towards achieving your dream, LFG!